Royal Blue and Lead Chromate Yellow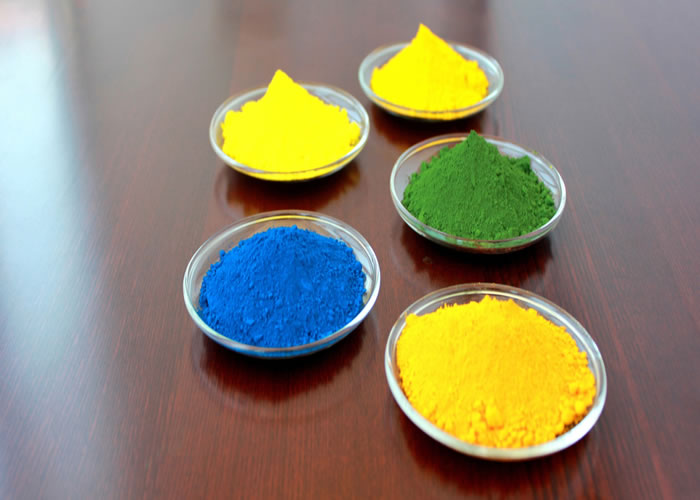 Royal Blue:
Physical & Chemical Property
Royal blue pigment is blue-phase inorganic powder pigment, also named pigment blue or Prussian blue, it is characterized by bright color, high tinting strength, inferior covering strength, stiff texture, good light resistance, poor alkali resistance, excellent heat resistance, it resolves to be red pigments when its temperature reaches above 150 ℃.
Product Applications
Royal blue pigment can be applied to building materials, such as colored cement, colored bricks, glazed tiles, colored concrete tiles, concrete bricks, colored mortar, colored bitumen, building ceramics, glass ceramics, terrazzo, mosaic tile, artificial marble and wall printing, interior & exterior colored concrete surface, such as wall surface, floor, ceiling, column, road surface, parking lot, stairs, stations.
Royal blue pigments are also widely used in paints and coating industry, such as waterborne coating coloring, powder coating coloring, epoxy paints, toy paints, decorating paints, furniture paints, electrophoretic paints, magnetic paints.
Royal blue pigments are applied to rubber & plastic industry, for instance, the coloring of thermoset plastic, thermoplastic and rubber products, leather colorant and filler
Storage conditions
Royal blue pigments are normally packed by PE poly bag or mufti-layer kraft paper bag, being stored at a safety warehouse with dry air, no moisture, non high temperature, it should also be isolated with acid and alkali, pigments with good package can be restored for 3 years under the above mentioned conditions.
Lead Chromate Yellow:
Physical & Chemical Property
Chemical formula: PbCrO4
Lead chromate yellow pigment is single monoclinic crystal yellow powder, inorganic acid, soluble in alkali solvent, insoluble in water, oil based liquid, high tinting strength, excellent covering strength, the color will fade away under the sunlight for a long time period, its color will turn to black color when ran into hydrogen sulfide gas. Product ranges cover lemon chromate yellow, light chromate yellow, medium chromate yellow, dark chromate yellow and orange chromate yellow.
Product Applications
Materials for oil based and synthetic resin coatings, it can be applied to sunlight proof coatings, ink printing, water-borne painting, paints, pigments, ceramic, colored paper, analytical reagent, colorant for rubber & plastic products.
Storage conditions
Lead chromate yellow should be stored in a completely sealed container under shady and dry warehouse..
Contact Us
No.77, western of Renmin West Road, Hengshui City, Hebei Province, China P.C.: 053011
+86-318-5218128 2045618 2049911