Copper Chromate Black Spinel PBK28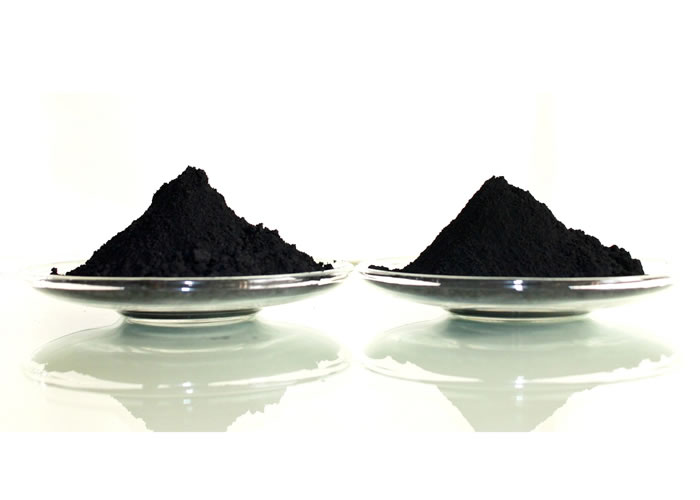 Physical & Chemical Property
Copper Chromate Black is characterized by black color with red and blue light, bright tone and color; it pertains to high-performance environmentally-friendly Mixed Metal Oxide Pigment, which can be broadly utilized in modern coatings and plastics. The pigment can be blended with most of thermoplastic and thermoset resins; it is universally recognized as environmentally-friendly pigment without any poisonous substances.
Copper Chromate Black characterized by crystal texture, that will not indicate the metallicity and oxidability, it is featured by excellent weather resistance, high-temperature resistance, acid and alkali resistance, thermo stability, high tensile covering strength, no-migration, no-bleeding, good dispersion, anti-heating oxidation, insoluble to water and organic solvents. Those features make copper chromate black determine its value in various superb durable coatings and plastic products. In addition, it has the function of anti-Far Infrared, heat isolation and temperature reduction, therefore can be widely used in various military and civilian coatings, building coatings, special coatings and etc.
Product Applications
(1) Coating industry:interior wall coatings, fluorocarbon coatings, engineering machinery coatings, aerospace coatings, marine coatings, automobile coatings, military camouflage coatings, building coatings, rolled steel coatings, land marking coatings, powder coatings, oil-borne coatings, water-borne coatings, colored paints, paints drying; sun proof, weather proof, corrosion resistance and anti-UV protection materials, wooden works, furniture coatings, aluminium & steel profile coatings, building facade, household electrical appliance, interior floor system and heat resistant coatings.
(2) Plastic industry: universal plastic, engineering plastic, specialty plastic, wood-plastic compound materials, master batch
(3) Glass industry: craft glass, colored glass, luminaire glass
(4) Ceramic and enamel
(5) Printing ink industry:colored ink, watermark ink, 3D ink, eco-friendly colored paper
(6) Painting: painting pigments, top-end ink pigments, water color paintings
(7) Building materials: colored sand, colored stone, concrete, diatom mud
(8) Besides, due to no harm to the environment, it can be utilized in food packing, food containers, tableware for daily use and toys for children.
Contact Us
No.77, western of Renmin West Road, Hengshui City, Hebei Province, China P.C.: 053011
+86-318-5218128 2045618 2049911