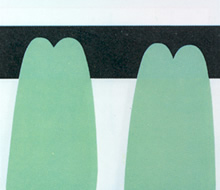 Youyi Chemical Co. produces color floor green pigments with the reference code C312 and C316 for paints, middle-grade floor coating and construction coloring.
Color floor green pigment is brighter and brilliant green powder, compared with Floor Green Pigments offered by us, with high tinting strength.
Note:
1,Detail technical data such as tinting strength, oil absorption, fineness, chrome oxide content, BET surface area as well as other information is available for customers reference upon request.
2, Please mention the product code number when you contact us for purchase or service.